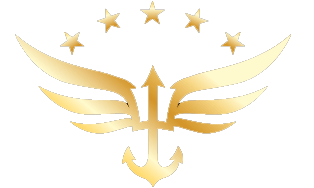 Picking up the 39' Tiara Open Express
In August of 2020, our organization became the recipients of partially donated 39' Tiara Open Express out of North Carolina! How lucky are we!? What a great opportunity for our charity to have this wonderful boat. Next was the question: "How the heck are we going to get it here?" Well, it didn't take long to realize we had to take the bull by the horns and make this happen on our own. We love a good road trip and happened to already have a 40' flatbed trailer so we loaded up and headed to a state we have never visited before. Several days later, we arrived in adorable Morehead City, NC and immediately fell in love with the area and the people.
​
We had to first figure out how to get the boat across the bay from Atlantic Beach to the boat yard where we would take it out of the water. There are sandy areas in those waters and you have to be familiar as not to run aground in the process and we needed someone who knew what they were doing. On our first evening, we went to the local watering hole which was right next to all the fishing boats that had just come in from their full days of fishing. All the captains and crews were around so Tom decided to "Go find me a boat captain!" .........and 5 minutes later, he came back with a phone number of a highly regarded wonderful man named "Doc". Tom called Doc and without hesitation and not knowing us at all, Doc said he would be happy to move the boat for us the next day.
​
Over the course of about 2 weeks, Tom found help to remove the tuna tower and build the cradle. He worked along side the guy the entire time. Extreme heat and humidity made for some long days and exhausted men. Our friend and board member Dan flew out to join us and he was Tom's pilot car. We appreciate his journey with us because it turned out to be longer than we expected but he hung in there and followed the big butt of that boat 2,300 miles.
​
These photos and videos are our adventure. We are beyond grateful for the kind and generous people we encountered and the friendships we made. This big girl will arrive in San Diego on June 10th for her final touches: bottom paint, re-attaching the tuna tower, and a little bit of spit-shine. We have plenty of time for the summer fishing season and the blue fin are biting!
​
Taking the boat across
the channel.
2,300 miles & 4 days later, the beast
arrives in Arizona.
We started with this.....
Our first time seeing her
We started with this.....
Miscellaneous and random fishing pics....